For 18 years, the ministry of The Call filled stadiums with a message of prayer and fasting believing that America would turn back to Jesus. In 2011 the Lord spoke to the leaders of The Call through a group of YWAM (Youth With A Mission) missionaries that a shift was coming that would give birth to a new sending movement, as a beginning fulfillment to their years of prayer and fasting.
In 2016, at a stadium gathering in the LA Coliseum, the shift began as 70,000 people raised their shoes in response to a call to go anywhere for the gospel. This gathering, called Azusa Now, catalyzed a grassroots movement that began activating believers to evangelism and mobilizing missionaries all over the world.
In response to the momentum of Azusa Now, a collaboration of national ministries gathered together in Orlando, FL to seek the Lord. Believing that the grassroots momentum must become a national movement, each leader grabbed hands making a commitment to do whatever it would take to see the re-evangelization of America and the finishing of the Great Commission. THE SEND was born.
What started as a dream in our hearts became a reality on February 23, 2019. Where nearly 60,000 people joined together with 250,000 people online to unite around Jesus and declare one thing – A WAR ON INACTION. First, with our voice and then with our lives. Each attendee was asked to adopt one of five mission fields and take immediate steps to begin to reach their "mission field." They were then guided into a follow-up process to help bring clarity and encouragement as they took their first steps.
COMMITMENTS FROM THE DAY OF THE SEND: ORLANDO —— FEB 23, 2019 —— MISSION FIELDS ——
FAST: 18,196 — Salvations Response: 531 — UNIVERSITIES: 2,197 — Neighborhoods: 5,064 — NATIONS: 5,423
After THE SEND, the momentum continued to grow not only nationally but internationally. First, interest began to stir in Brazil which has now become THE SEND Brazil, a three-stadium one day gathering on February 8th, 2020. The global expression of THE SEND is growing and will go next to Argentina and Norway.
In the midst of international expansion, an incredible series of events led us to relationship with GEHA Field at Arrowhead Stadium in Kansas City. After much prayer and unified agreement we knew God was leading us to Kansas to city to call the nation to the message of GO. We always knew it would take more than one stadium and we believe more than ever that the time to send is now.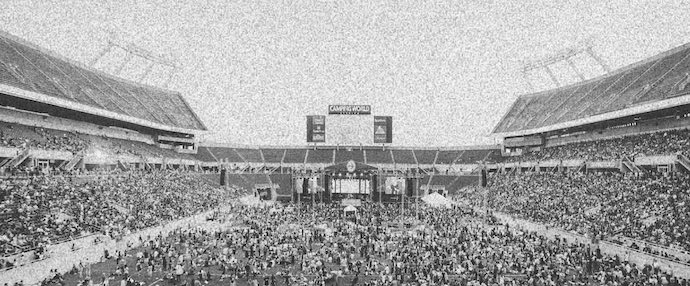 Collaboration is best defined to us as "different gifts, equal sacrifice." We believe the only way to see nation-wide impact is through uncommon collaboration. That's why Circuit Riders, Lou Engle Ministries, Youth With A Mission, Lifestyle Christianity, Christ For All Nations, Jesus Image, Dunamis Movement, Crazy Love, and many others are uniting together to form THE SEND.